New Zealand politician stuns with Ku Klux Klan outfit
Submitted by Mohit Joshi on Thu, 05/29/2008 - 22:39.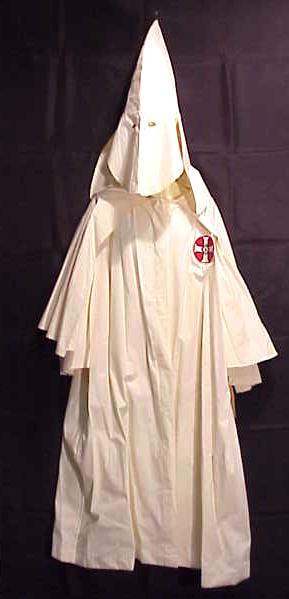 Wellington - A small town New Zealand politician stunned a local council meeting by appearing in a Ku Klux Klan outfit with a sign reading, "It's wotz under da hood dat counts," according to news reports Friday.
Dale Evans wore the outfit to protest at the declaration of Friday as "National Hoodie Day," which the government's Youth Affairs Ministry is funding to challenge what it calls negative perceptions of young people, who wear the ubiquitous sweatshirts with hoods over their heads.
Evans told Television New Zealand that "hoodies," which have been banned by some shopping malls who say groups of young people wearing them intimidate customers, were not an appropriate article of clothing to celebrate.
Ann Chapman, deputy mayor of the Kapiti Coast District Council, told Wellington's Dominion Post, "It was outrageous, a poorly chosen disguise and disrespectful to what some American black people went through in the Deep South."
Ron Mark, a member of Parliament for the nationalist New Zealand First party, also condemned "National Hoodie Day," saying, "It is so inflammatory and incites the wrath of the average Kiwi out there who is struggling to deal with the tagging on their streets and the gang culture of some young people who use thehoodie, who use black American rap culture as their theme." (dpa)